starting 'projects' and never keeping up with them.  like blogs.  and tumblr.  and today I joined Pinterest and will probably forget about that too.
1.) Why are you burned out?
new job (~25 hours/week), school fulltime, boyfriend fulltime.  It's an amazingly tough semester.

2.) Write a poem about a time someone made you smile.
I haven't had enough coffee to even think about something like that.  I smile often, though.

3.) A list of 10 reasons you do or do not drink coffee.
makes. life. possible. the end.

4.) An open letter to a celebrity.
what?  I don't even like celebrities.
Oh wait,
Dear Tom Brady,
Please do something about that nappy head of yours.
Kthanks.

5.) That one time you met your online friend in real life (was it everything you thought it would be?)
Obviously, she's a best friend.
So I get these writing prompts emailed to me from some blog and they're supposed to inspire me to write… and then it takes me all of 5 minutes to do them.  Maybe I don't elaborate enough.  That's what my Public Administration professor told me in big red letters across my last test.  He's a star.
1.) Describe a moment when you ignored your intuition. What happened.
This happens at least once per day.  It's almost like… I make bets with myself.  You know?  Like "if you don't put your pants on right now, you'll probably try to walk out the door in your sweats."  "no I won't.  I'll remember."
I didn't remember.

2.) What are your confessions?
(inspired by Usher)
 I confess that when it gets below 70 degrees I sit at my computer like this.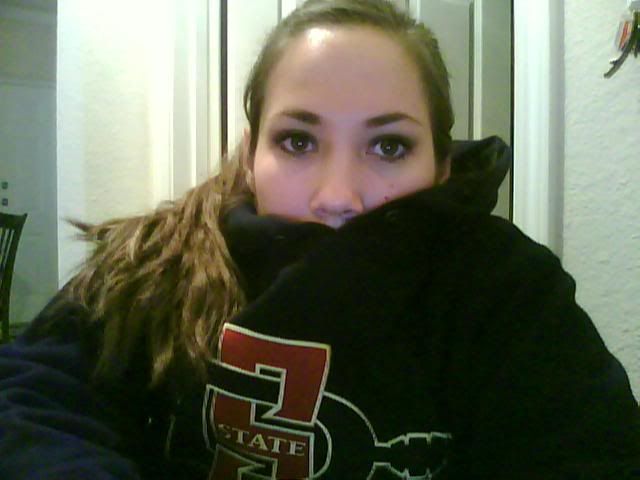 3.) A time when you stuck up for a friend.
I find that I stick up for people I don't know more often than I stick up for my friends.  Although one time the National Guard recruiter called my best friend's cell phone and I hung up on them.  I think that counts.
Not that I diss my friends.  I don't know what I meant by that.  It's been a long day.

4.) Something you wish you hadn't put off til the last minute.
my life?  I don't know, I've done entirely too much procrastinating lately.  But everything is pretty great right now.

5.) Sarah Silverman once gave an interview where she described her childhood depression as feeling homesick while at home. How would you describe it?
Childhood depression?  What the hell did I have to be depressed about as a child?  The worst thing in my life was probably ruffled socks.  Or stirrup pants.  But c'mon, I had all the Polly Pockets.  It was a good childhood.